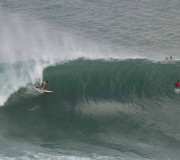 I started training with Mitch about 2 years ago because I wanted to improve my general fitness and flexibility toward maintaining and possibly improving my level of surfing.
After over 25 years in the water I was suddenly starting to feel older, everything was tightening up and I wasn't as responsive anymore. I had niggling hamstrings, a sore hip, creaking over-used shoulders, tight muscles in my central back, the list went on. I wanted to go to Hawaii at the end of the year and my body wasn't going to cope. It was all becoming unsustainable, so I knew something had to change to enable me to once again ride a wave how I wanted to.
Mitch combined a stretching and strengthening routine with massage and physical exercise to completely convert my body. By the time I left for my trip I felt like I was 23 again, which I never would have thought possible. There were also improvements to my posture and I felt that I was also more efficient at work as my mind became clearer and more focussed. For the last year I have continued to work with Mitch and the combination of body work, stretching and training sessions have me consistently feeling great in and out of the water.
I might now be able to keep improving into my 40's and beyond which is just amazing. I would thoroughly recommend Mitch to anyone wanting to get the most out of their body and life.
Peter Winkler