I recently had the pleasure of traveling to Bali to present at the Dragon Australasian Sales Summit . I was asked to work with their sales team in and around personal development, wellbeing and self awareness. The central theme of my offering over the week was "breathing" and how this affects the way we feel, move and think. Given that all the Dragon team are keen surfers, we also looked at surf specific movement training. I really enjoyed offering the group a clear view on what I believe are optimal living practices such as postural awareness, functional breathing, stabilisation through primitive movement, mindfulness, meditation and personal mapping.
For those that are interested, here is a rundown of the sessions we did over 4 days:
Session 1 – Overview of Breathing, Posture and Movement:
Specifically – Health and Performance, Autonomic Nervous System, History and Evolution Diaphragm Function and Modern Living.
Session 2 – Pool session:
Diaphragmatic breathing, surf specific breath holds, underwater relaxation.
Session 3- Functional Stabilization:
Single Leg stance, functional squatting, quadruped and primitive crawling, hand stands, half handstand, wall walking.
Session 4 – Mindfulness using the breath:
Standing Yoga Asanas' with long holds followed by 3 lots of 7 minute meditations
Session 5 – Dynamic Movement training for Surfing:
A focus on moving with elasticity and stability
Session 6 – Personal Mapping, recovery postures and partner Thai massage.
After giving the group the opportunity to learn about themselves through a range of different movement experiences we finished with a Group Mapping session. The timing of this is important because the best results come when people feel relaxed, clear, still and inspired. The Mapping experience is about working out what is currently important to you as well as having a clear understanding of what you want for yourself. This may come in the form of a simple goal with some clear intentions/actions that you are prepared to hold your self accountable to.
A thoroughly enjoyable week with some great waves at Cunguu, Uluwatu and Bingin!
Check out the video and images below and see what General Manager Mark Hudson said about it.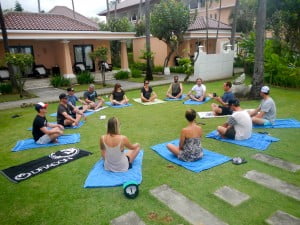 Teaching the group how to breath using diaphragm before the pool session. Local Balinese Dragon team riders joined us for the session.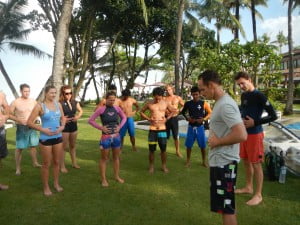 Taking the team through the pool session which really requires you to let go of "mental busyness". One of the most unique and rewarding forms of training I've ever done.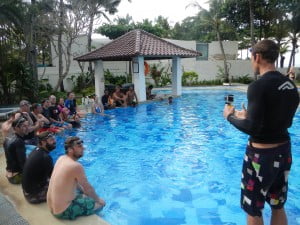 Primitive Crawling during our Functional Stabilisation session. Can you keep the pelvis low?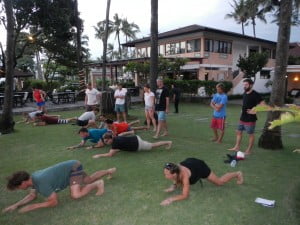 Padang Padang Pumping – A little bit morning sick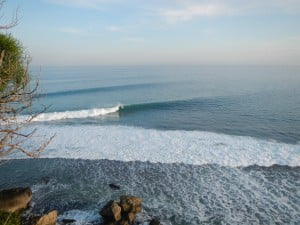 Constructive Rest Position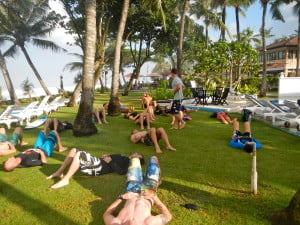 Partner Thai massage session, using compressions through the feet to stimulate energy, blood flow, and recovery.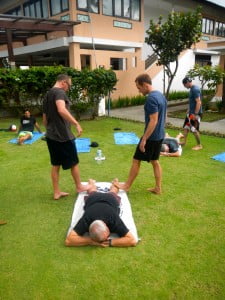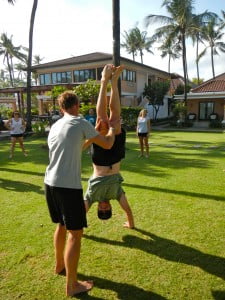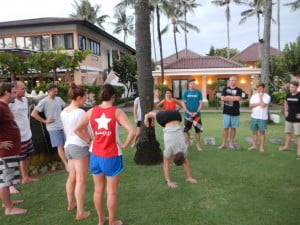 Team half handstand